Frame by Frame #9
Frame by Frame #9 – April 2011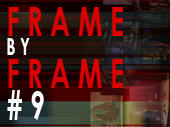 For 9. gang inviterer Foreningen for animert film til Frame by Frame. Lørdag 9. april på Filmens hus presenteres ny norsk og internasjonal animasjon, gjester, utstillinger og det tradisjonsrike lotteriet.
Praktisk info:
Lørdag 9. april fra kl 10:30
Filmens hus, Dronningensgate 16, Oslo, www.nfi.no

PROGRAM (med forbehold om endringer)
10:30 – Animated Feature: A Cat in Paris (Une Vie de Chat)
11:40 – Break
12:00 – Welcome
12:15 – Guest: Folimage
13:45 – Lunch
14:15 – Guest: Pjotr Sapegin
15:15 – Norwegian Short Films
16:15 – Break
16:35 – Guest: Rick Marr
17:45 – Oscar Short Films
18:35 – ByHands – with Ida Lund Bjørnsen
18:45 – Sex og SingelSiv – presented by Rasmus A. Sivertsen
19:30 – Break
19:30 – Animated Feature: The Illusionist (L'illusionniste) – Introduced by Montages.no
20:50 – Party & Lottery
Utstillinger:
– Billedbøker illustrert av kunstnere fra den norske animasjons-, spill- og VFX-bransjen
– Studioutstilling
Mer om programet:
Ny norsk animasjon
Kortfilmer, studentfilmer, musikkvideoer og reklame. Din beste mulighet til å holde deg oppdatert på den norske animasjonsfronten.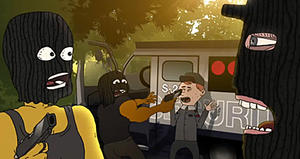 Pl.ink!, dir: Anne Kristin Berge, Storm Studios
Livet på nett x 4, dir: Kristian Pedersen og Andreas Ihlebæk, Griff Kommunikasjon AS
Tomme Tønner – The Animated Short, dir: Andreas Paleologos og Matt Willis Jones
Jakob og Neikob, dir: Martine Grande, Høydal Fjernsynsproduksjon
Litt mindre. Hver dag., Dir: Lars Hegdal, Klipp og Lim
Franklin D. Roosevelt Essay, dir: Hanne Berkaak, Mikrofilm
Baker'n, dir: Kine Aune, Kine Film & Qvisten Animation
Network Norway Saga, dir: Både Og, Stripe & Både Og
Lexdysia, dir: Marc Reisbig, Storm Studios
Klostertanz, dir: Kajsa Næss, Mikrofilm
VW – Garasje, dir. Alexander Kayiambakis, Trøbbel AS
Norangsdalen, dir: Kristian Pedersen, Gasspedal Animert
1881 – Vaskehall, dir: Cathinka Tanberg, Mikrofilm
1881 – Sukkerspinn, dir: Andreas Paleologos, Mikrofilm
1881 – Seminar, dir: Cathinka Tanberg, Mikrofilm
Jamie's Dream School, dir: Hanne Berkaak og Marc Reisbig, Passion Pictures
Helsedirektoratet alkohol kampanje, dir: Rasmus Sivertsen, Qvisten Animation
Helsedirektoratet alkoholfritt svangerskap, dir: Rasmus Sivertsen, Qvisten Animation
Bokstavene, dir: Kristian Pedersen, Gasspedal Animert
Paranøtt-treet, dir: Magnhild Winsnes, Mikrofilm
Koht på jobben, dir: Racecar
Kirkens SOS, dir: Cathinka Tanberg, Mikrofilm
AtB, dir: Lars Hegdal og Jøran Wærdahl, Klipp og Lim
Kiss, dir: Racecar
Dirty Boy, dir: Khim Tengesdal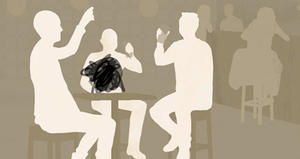 Folimage
Det franske animasjonsstudioet Folimage er blant Europas fremst leverandører av animasjon innenfor en rekke formater og uttrykksformer. Blant deres mest kjente produksjoner er kortfilmene Le Moine et le poisson/The Monk and the Fish (1994) regissert av Michaël Dudok De Wit og Au bout du monde/At the Ends of the Earth (1999) regissert av Konstantin Bronzit, samt TV-serien Hilltop Hospital. På 00-tallet har Folimage også produsert en håndfull animert langfilmer. Best kjent er Jacques-Rémy Girerds La Prophétie des grenouilles (2003), som fikk norsk tittel Froskenes fabelaktige spådom. Rett før jul 2010 kom deres seneste langfilm, Une vie de chat/A Cat in Paris, regissert av Alain Gagnol og Jean-Loup Felicioli. Filmen vises som en del av programmet under FxF.
Pjotr Sapegin
Russiskfødte Pjotr Sapegin begynner etterhvert å bli en grand old man innen norsk animasjon. Etter at han kom til Norge i 1990 har han rukket å produsere 15 animerte kortfilmer, en rekke reklamefilmer og langfilmen Nå skal du høre… (2005) bestående av flere kortfilmer bundet sammen med en rammefortelling. I 2010 – etter 20 år i Norge – tok Sapegin for seg det norskeste av det norske; en fortelling om troll i den animerte kortfilmen Det siste norske trollet. På 90-tallet var Sapegin med på å etablere det suksessrike animasjonsstudioet Studio Magica i Oslo og på 00-tallet etablerte Sapegin produksjonsselskapet Pravda (senere Kinopravda) sammen med David Reiss-Andersen og Mikkel Sandemose. I 2009 mottok Sapegin Grafills Klassikerpris for sitt arbeidet innen norsk animasjon og i 2010 ble hans animerte kortfilm Aria (2001) kåret blant 00-tallets beste kortfilmer av Rushprint.
Rick Marr/Elektrik Effekts
Elektrik Effekts er resultatet av et kreativt samarbeid mellom special effects supervisor Rick Marr og makeup artist Anja Dahl. Sammen har de jobbet på en rekke filmproduksjoner – både store og små i og utenfor Hollywood. Marr har spesialisert seg på animatronics og ingeniørkunst med blant annet følgende filmer på rullebladet; The English Patient (animated prop design), The Avengers (animatronic designer, puppeteer), The Brothers Grimm (puppeteer, senior creature effects technician). Marr flyttet til Norge i 2004 og har sammen med Anja Dahl levert spesialeffekter til en rekke norske film- og sceneproduksjoner.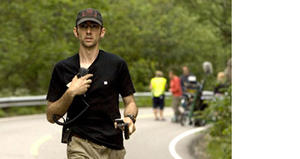 The Illusionist
Sylvain Chomets etterlengtede animerte langfilm, The Illusionist (2010), får en eksklusiv kinovisning under Frame by Frame. Filmen er basert på et nylig gjenoppdaget manus av den franske mesterregissøren Jaques Tati og Chomet har utformet hovedkarakteren i filmen som en hyllest til Tati. Filmen har tatt lang tid å ferdigstille og er regissørens første langfilm siden storsuksessen med Trillingene fra Belleville (2003). Til tross for tidligere suksesser, har Chomet funnet det vanskelig å distribuere filmen bredt. Så langt har ikke filmen fått norsk distributør. Aftenposten gav nylig den internasjonale DVD-utgivelsen av The Illusionist terningskast 6.
http://www.youtube.com/watch?v=mPdLrxxo4mg&feature=player_embedded
Oscar-kortfilmer
Et uvalg av kortfilmer nominert og shortlistet til Oscar for beste animerte kortfilm i 2010. I programet vises selvsagt også Oscar-vinneren The Lost Thing av Shaun Tan og Andrew Ruhemann.
Day & Night
Director: Teddy Newton
United States, 6 min
Pixar Animation Studios
The Silence Beneath the Bark
Director: Joanna Lurie
France, 11 min
Lardux Films
The Cow Who Wanted To Be A Hamburger
Director: Bill Plympton
United States, 6 min
Bill Plympton Studio
Urs
Director: Moritz Mayerhofer
Germany, 10 min
Filmakademie Baden-Wuerttemberg
Sensology
Director: Michel Gagné
United States, 6 min
GAGNE International LLC
The Lost Thing
Directors: Andrew Ruhemann, Shaun Tan
Australia, 15 min
Passion Pictures Australia
courtesy of: www.norskanimasjon.no/pub/index.php/ffaf/frame_by_frame_9

ByHands
http://byhands.no/
ByHands is an illustration agency, representing exciting Norwegian talents!